Facilities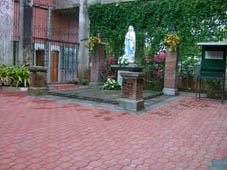 Our Lady of Lourdes Garden
Seminary Beautification
Everybody wants to make the seminary a beautiful place, not only for the residents but also for the many people who come by this place to visit their loved ones or attend the regular Sunday Masses. Thus, certain spots within the compound have been made into shrines in honor of saints which serve as places of prayer and contemplation for the seminarians, and also adding to the beauty of the surroundings.
The firsts made were the grottos on both sides of the chapel. At the left is the Our Lady of Lourdes, where Marian devotion is continuously encouraged for the seminarians. It helps them to turn to their Mother, most especially during times of problems and doubts, consoled by the prayer Memorare engraved below the Lady's image. On the opposite side is St. Joseph, Husband of Mary and considered by seminarians as Protector of Vocations. Through the powerful intercession of the Foster Father, seminarians learn to entrust their vocation to Him whose arms cradle the sleeping Child Jesus.
Through the efforts of concerned seminary friends, the newest grotto dedicated to the Nativity of the Virgin Mary was blessed on the occasion of the feast, September 8, 2007. A previous simple grotto actually existed, where the image of the Virgin stood. But after the blessing of the St. Peter's grotto, it was observed that this grotto near the main entrance of the compound was seemingly forgotten. So, some generous friends decided to sponsor the beautification of the Virgin's grotto, shouldering all expenses. In just a few months' time the grotto was finished, with the improvement on the image itself worn-out through exposure to elements. Now, the seminarians can pray the Rosary or just contemplate in silent praise before the Virgin, whose arms are wide open to all souls, most especially to these ones aspiring to be like her most Divine Son and True High Priest, Jesus Christ.